AnnA Buffini's last-minute decision to bring FRH Davinia La Douce from San Diego, CA, to Florida for the Adequan® Global Dressage Festival (AGDF) to contest Friday night's IDA Development FEI World Cup™ Grand Prix Freestyle paid off handsomely. She claimed a coveted ticket to the World Cup™ Final in Omaha, NE, next month. AGDF 2023, which hosts seven weeks of CDI competition over three months, runs through April 2.
There are three starting spots allocated at the FEI World Cup™ Final to the North American League. Steffen Peters and Alice Tarjan had already bagged the top two spots. Heading into the freestyle — the final North America qualifier before the prestigious Final — it was neck and neck between Buffini and Sarah Tubman.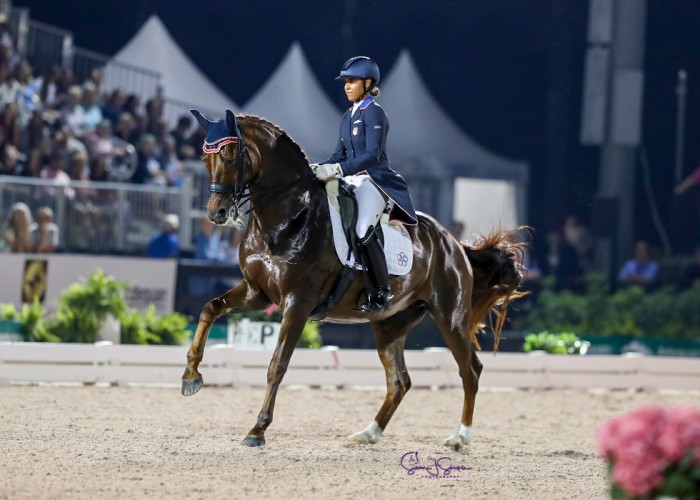 From second to go in the class, Tubman and First Apple put down a chunky score of 77.45%. She held the lead for more than two hours, until Buffini — second-to-last to go — pulled off a 78.28% test on her own FRH Davinia La Douce, which proved unassailable. Morgan Barbançon (FRA) rode Bolero into third with 77.41% from final draw — just 0.04 percentage points adrift of Tubman.
Anna Buffini's Ride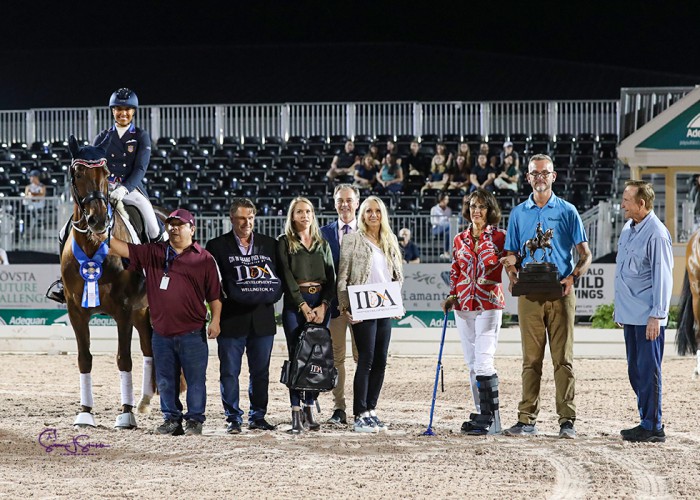 Buffini said, "It could have been either of us — it was a battle to the end and she deserves to go just as much as I do. I'm very grateful to have the outcome that we did. It was a tricky ride, but in the past if we've had a tricky ride then the score wouldn't have turned out so well. Our partnership and the work we've put in together the last couple of years has really come together. So now even if the ride is a little tricky we can still come out with a solid test. She's a chestnut mare and they all come out a little bit different at every single show."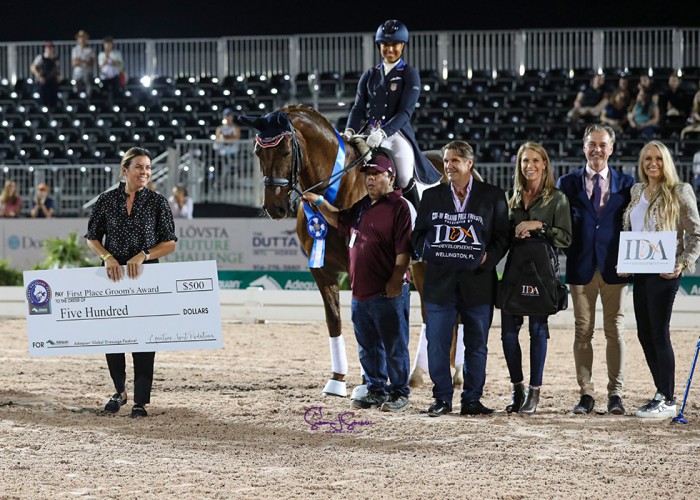 Buffini, 28, was grateful for the opportunity to ride in the atmospheric and electric stadium at AGDF. It served as valuable preparation for the cauldron-like setting at the Final. She and FRH Davinia La Douce — a 16-year-old by Don Frederico — can carry this experience forward. She rode to an emotive Top Gun: Maverick compilation; she has seen the film eight times.
"I am glad we had this [tricky] ride because it's given us so many tricks and things we can do to prepare for Omaha. It was a very good preparation show," added Buffini, who trains with Olympic medalist Guenter Seidel, whom she credits for much of her success. "He's the reason I ride how I ride and I am who I am. He changed my life and I wouldn't be here without him. He has so much wisdom to share and I try to take that into the arena."
Sarah Tubman Second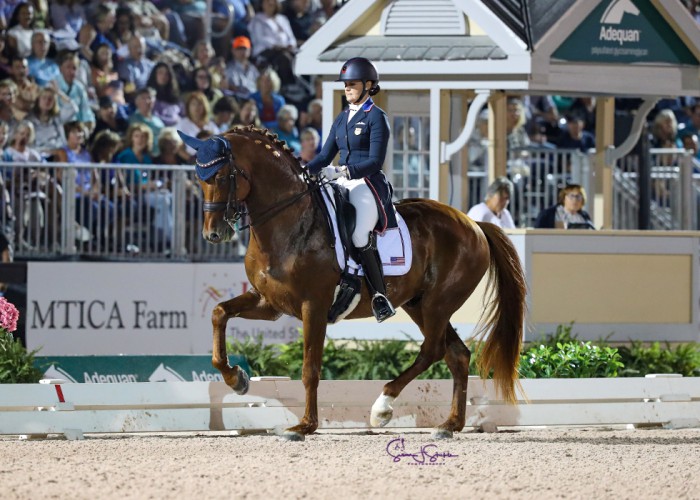 Tubman said of her ride on Summit Farm's 13-year-old Vivaldi stallion First Apple: "I could not have asked for more. He was with me 100% of the time. A zero mistake test. Of course, we could have had a little more energy. It's hot and he doesn't like it so hot. But at this stage of the game I'm extremely happy with him."
Morgan Barbanço Third
Third-placed Barbançon rated her test on her own 17-year-old Glock's Johnson son Bolero as their best ever, even though the music — made up of famous French singers — was borrowed from her other grand prix ride, Sir Donnerhall II.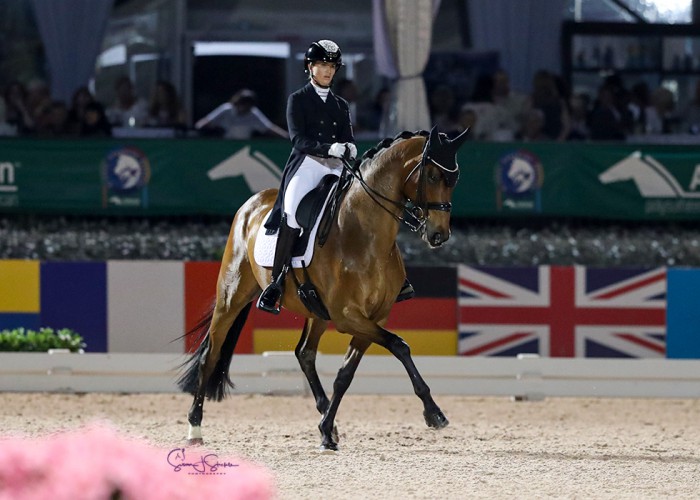 "I have to say tonight was our best test so far," she enthused. "Bolero was really with me. I had a great ride and so much fun with him tonight. The last two freestyles there were a couple of hiccups, whereas today I felt like he really wanted to go and we were on it.
"It's a great experience being here. We can compete a lot, get mileage and experience without having to tire our horses traveling throughout Europe," she added of her first season in Wellington.
The judge presiding from C, Clive Halsall (GBR), said, "These riders all came with the intention to do the very best they could. You could see the pressure was on and they all wanted to win this class. We want to see good freestyles with risks. But you've always got to get that balance right with the harmony and difficulty. They really went for it and tried; they all had really good freestyles and good music."
Thanks to Vita Flex for our coverage leading up to the 2023 FEI Dressage World Cup Finals, including rider interviews, competition reports, photos, videos and more!⁣